MSU Celebrates President Mapupuno's First Year in Office and Ramadan 2023
     The MSU Family and the university constituents warmly greet President Basari D. Mapupuno on his first year in office as well as welcome this year's upcoming observance of Ramadhan 2023.  Coincidentally, March is also the President's birth month, so we are also wishing him more blessings and more birthdays to come!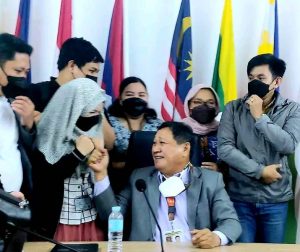 Basari@One: An Insider's View from the  SAs
 As you pass through the glass doors leading to the rooms that make up the Office of the President, the small lobby you step into will face a small glass enclosure, populated with the expected office desks and chairs. This is where we, OP special assistants, consultants, a handpicked group, along with some executive assistants, do our work, helping facilitate the day-to-day business of MSU-Marawi and on many occasions, that of the System.
        While we don't exactly see the President everyday, we do deal with university matters  involving either his signature or his very own presence, so it can be said that we get to have more interactions with him than the average MSU constituent. It's pretty common for us to get asked: "What's President Basari "Boss" Mapupuno like?"
It's been a year since we saw the President on his first day of office here in MSU, and we've been with him on a couple of work-related travels so we think we can venture to give a good answer to this.
Many of us have heard of him before, either as the former Dean of the College of Law or as the Provincial Prosecutor of Lanao del Sur, and  before his presidency we didn't expect to run the chance to really get acquainted with him as a person. But in the afternoon of  March 2022, the changing of the guard happened, and there he was, on Day One, trying to contend with a formidable crowd of well-wishers (who, in their haste and hurry to get close to the new Chief Executive, smashed the PMS Director's desk). Our small team had to timidly retreat behind the glass walls of our small office nook.
On his first flag ceremony as University president, where two of us helped facilitate the program as master of ceremonies and giver of the invocation, we all saw him become emotional as he started to speak, saying that his own father, the late Atty. Oga Mapupuno, would have been very proud to see him in that moment. He received applause for his short, simple, heartfelt speech where he expressed his commitment to bringing back MSU on the right track (he admitted that he didn't write a draft so it was clear that he spoke from the heart instead). Later, he met us at a meeting in the conference room that same day, an indication that he meant business.
(To read entire article, access the latest issue of the University newsletter)